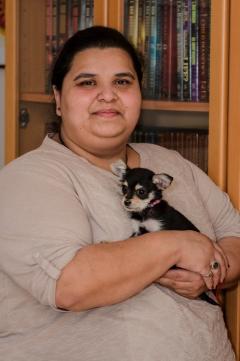 Dr. Lilia Enciso (Dr. Lily)
I was born Southern California and grew up in a small city named Paramount. Growing up my home was always full of pets. My childhood pets included pigeons, cats, parakeets, dogs, bunnies, hamsters, and fish. It was this early human-animal bond that ignited my interest in animal medicine.
During my senior year in college, I started working as a veterinary assistant at a well known and respected veterinary specialty practice in West L.A. It was there that I felt right at home and it was there that I realized that I wanted to advance in my veterinary career.
After 4 years of undergraduate studies I received a degree in Biology from UCLA in 2005. I continued to work as a veterinary assistant for a couple of years then I was accepted into Western University of Health Sciences College of Veterinary Medicine. During veterinary school I nurtured my passion of the human-aninal bond and my innate empathy for animal.  In 2011, I received my DVM degree.  I've  worked as a general practitioner in the High Desert and as an emergency clinician in Orange County.
When I am not practicing veterinary medicine I love spending time with my family (especially my two nieces Melanie and Leslie), my two cats (Jane and Shasta), and my four dogs (Dolly, Dalila, Dotty, and Darla). I also enjoy gardening, reading, hiking, and I have recently taken up photography and guitar.