Aftercare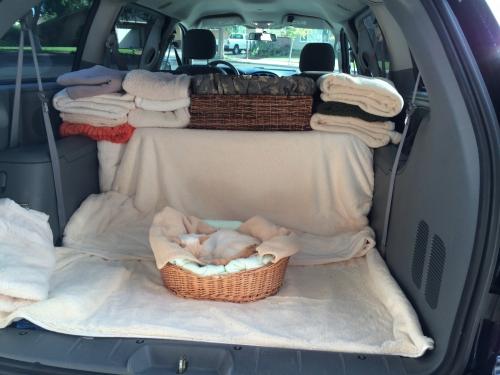 The doctor's vehicle is tastefully arranged to transport your pet's remains with dignity The service that Home Pet Euthanasia of Southern California offers includes full aftercare service.   We  understand how difficult the passing of your pet is and we want to ensure that you do not need to have any additional worries.  When you leave your pet's remains in our care, our policy is that we care for your pet's remains just as if you were looking over our shoulder the entire way.  There is nothing that we do that we wouldn't want you to see.  Our vehicle is set up in a tasteful manner to provide a dignified trip back to our facility.

The 3 main choices that you have in caring for your pet's body after he or she has passed are:  Cremation with return of Ashes (Individual Cremation (also called "Partitioned") or Private Cremation), Cremation with no return of Ashes (Communal cremation) or, if you wish, you may request that your pet's body be left on your premises for you to make your own arrangements.  

If you choose to have us help you with the aftercare,  you can be assured that your pet's body will be cared for respectfully throughout the entire aftercare process, whether you choose a private, individual or communal cremation.  We chose a cremation facility called PAWS AND CLAWS to care for all cremations because we believe that they are very ethical, professional and compassionate.  You do not need to make arrangements with Paws and Claws as our service is all inclusive and we will take care of everything for you.  But if you would like to contact them to ask them questions about their procedure and to be reassured that they are caring and respectful to your pet's remains, they will be happy to speak with you.
The cremation process used by our cremation facility is called Aquamation (AKA "Water based cremation").  We have chosen this option because of its minimal impact on the environment as compared with the traditional flame-based cremation.  Technically, this process is referred to by the term "Aquamation" or Water-based cremation", but for the sake of simplicity when discussing your pet's aftercare, the term cremation is used throughout our website.  For details on this process, see "About our Cremation Facility" and view the video on Aquamation.

Following the euthanasia, you will be given as much time as you wish to say your goodbyes before the doctor takes your pet's body and carries it to her vehicle.  If your pet weighs more than 40lbs, it will be asked of you to help carry your pet's body.  If you are physically or emotionally unable to do that, please let us know ahead of time so that arrangements can be made for an assistant to come along.  See
Pre-euthanasia options.pdf.
In this section, you will learn more about the different options you have, you will learn how we care for your pet's remains throughout the process, how your pet's remains will be brought back to you if you choose to have your pet's ashes back and you may also learn exactly what "ashes" are.  You will also learn about other ways to memorialize your pet, including Clay Paw Prints, custom urns and jewelry containing ashes as well as other creative ways to remember your pet.
For full fee schedule on the cremation services, please visit our Fee Schedule page on this website.  The fees for the cremation (private and communal) include removal of your pet's body from your home, transportation to the cremation facility and the delivery of your pet's ashes directly to your home by the cremation service in the case of the private cremation. 
Making your own arrangements
You may request that your pet's remains be left on your premises and you can make your own aftercare arrangements. 

If you are planning on burying your pet, make sure that you inquire about the regulations of the city/town you live in:  some city ordinances prohibit the burial of a pet's body in your backyard.
Aftercare arrangements form.pdf