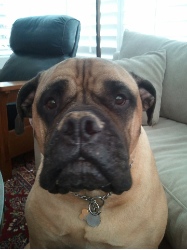 Our beloved Gracie left this world on 10/10/13.  No words can adequately describe the depth of our grief and feeling of loss. Gracie was a final gift from my husband Jim in April 2004. She was 3 months old. By August, Jim passed away after a battle with heart disease. Gracie was our lifeline, our rock. We loved her so very much.
When we knew we had to let her go, it meant everything to us to allow her to die peacefully—in her home, in our arms. We were blessed to have Dr. Julie Flood care for Gracie. Gracie drifted away so peacefully in our arms with her best buddy "Dixie" (our Australian Shepard) by her side. Dr. Julie was so kind and supportive, giving us all the time we needed.  
I've owned dogs my entire adult life and have gone through this before--but being able to say goodbye to our beloved Gracie in our home and with her in her bed was so much better for her and us. From the lady I initially spoke with on the phone to Dr. Flood to the gentleman who returned her remains to me, all were sensitive, kind and empathetic. 
I will highly recommend Home Pet Euthanasia to everyone I know with a pet. It was such a blessing I found you! I thought it was especially nice to receive the card and cast of Gracie's paw. You do a beautiful job and I am very grateful for your help; you left an indelible impression in our hearts. We will be eternally grateful for the compassion shown to us and our Gracie. She died comfortably and with dignity, surrounded by her loved ones.
Our sweet "Princess Grace" will forever be loved and deeply missed.
Thank you.
Kathy Whitehouse
Laguna Niguel