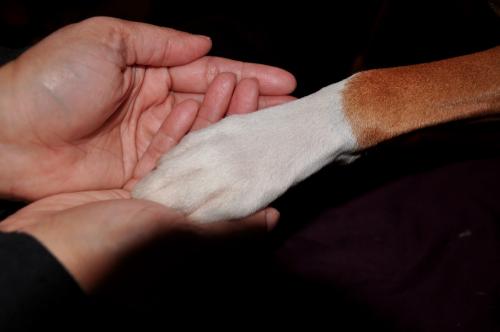 Planning the euthanasia of a pet you have loved and who has been part of your family for so many years is undoubtedly one of the most difficult times of your life.  The purpose of our home euthanasia service is to make this difficult event easier for you and your family and to make it peaceful for your faithful friend.  On our website, you will learn how this painful loss can be made a bit easier and could even become a positive experience on which you can reflect, knowing that you offered the gift of a peaceful, dignified passing to your beloved companion, the gift of euthanasia.
To summarize, when chosing us for the home euthanasia of your pet, you have the following options:
We will gladly give you a quote for our services.  The cost of our service depends on several factors such as travel fee, aftercare and off hours fee if applicable.
Some of the species we provide Home Euthanasia for are:
Dogs
Cats
Pot Bellied Pigs
Small mammals (rabbits, rats and other pocket pets)
Pet Birds
Some farm animals that you consider pets such as goats
At this time, we do not service horses. 
We are here to help you through this difficult time.  We will do it with caring and compassion.  Your baby will pass in gentle hands. 
The first step is to call us or email us.  From the first contact, you will feel safe and cared for.  You can fully express what is going on with your pet, you can ask us any questions you like and we will take the time to talk to you, answer your questions, find out about your pet, etc...  We will never treat you as the 20th call we get that day.  Your story and your pet's situation are unique and we will make the time to find out what you need from us and how we can best help you.  If you don't want to talk a lot and you prefer to have the entire process be short and smooth, we will not force you into a conversation that you do not want to have.  We are there to take care of you in the manner you think is best.  Just let us know what you need from us. 
We will answer your questions about how you prefer to care for your pet's remains afterwards and we will explain all options to you (see our Aftercare section).  Our Home Euthanasia service is complete.  We not only offer euthanasia, but also full aftercare service.  You do not have to worry about what to do with your pet's remains afterwards.  We can take care of everything for you, including returning your pet's ashes to you if  you wish.  However, if you prefer to take care of your pet's remains youself, we can leave your pet on your premises for a home burial or for you to take him/her to the cremation facility of your choice. 
When you are ready to make an appointment, we will work with you to find the best time for you.  If your pet is in distress, we will do all we can to be there within the shortest delay.  We offer visits 7 days a week, days and evenings. 
The euthanasia procedure is actually very simple.  The wealth of information on our website can demystify the entire subject for you.  When the doctor arrives at your home, she will make sure to answer all your questions and do everything possible to make you feel as comfortable as possible with what is happening.  There will be some forms to fill out (which you may fill out ahead of time if you wish by downloading and printing them in the Forms Section).  The doctor will walk you through the entire procedure and answer all your questions. 
With your help, the doctor will assess the best way to proceed with your pet so that your baby is comfortable and stress free.  Is your pet scared of strangers?  Is it best for the doctor to minimize her contact with your pet or does your pet love people?  Is your pet in a lot of pain?  Tired?  Anxious?  Will he/she need sedation?  (not all pets do:  see our section on sedation).
When the time comes for the euthanasia itself, we will not rush you nor will we prolong anything you do not wish to be prolonged.  We will proceed at your own pace, giving you time between each step (as long as your pet is comfortable enough and not in distress). 
We will also give you as much time as you need to say your goodbyes afterwards, before we take your pet to the doctor's vehicle. 
I have created a detailed article (Preparing for the Event) which will walk you through every detail of the procedure. 
All and all, our euthanasia service is designed to be done in a respectful, relaxed, simple manner, and above all, with caring and compassion.