What does the word Euthanasia mean?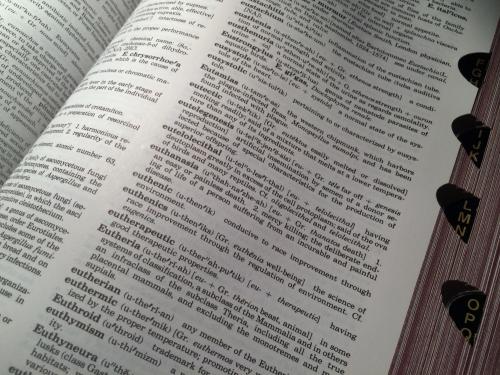 There is not much controversy regarding pet euthanasia. It is a much different issue than the controversy engendered by the subject of euthanasia in people. It is a commonly held principle that as pet owners, we have a responsibility and a duty to make the decision to put our pets to sleep when, in our viewpoint, they have come to suffer and are no longer enjoying life.
The word euthanasia comes from the Greek and means "easy death" or "good death". The root "eu" means good, improved, easy. "Thatanos" means death. It is the act of ending a pet's life for humane reasons. It is done by the administering of an overdose of anesthetic in as painless a manner as possible. Some common synonyms are "putting to sleep", "put to sleep", "put down", "euthanize", "mercy killing", "humane end of suffering", "painless death". Some incorrect variations I have also heard are "euthanization", "eutanize", etc...