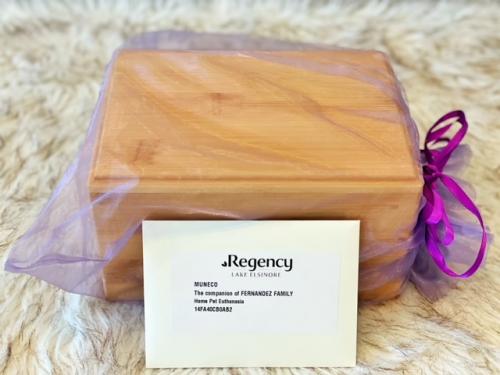 An Individual (partitioned) cremation means that your pet will be separately cremated and that the ashes will be returned to you.  See our section explaining the difference between Private and Individual cremation.  A beautiful wood urn will be selected by the cremation facility.  However, the crematory also offers different choices of urns ranging from standard to very elaborate.   You may also provide an urn of your own choosing.  If you would like to do that, you may view the choice of available custom urns on these links:  http://www.peacefulpawspet.com/custom_urns.php and contact Peaceful Paws to order your special urn.  (Some of our clients have made their own urns out of ceramics or other material).
Miniature urn pendants and necklaces are also available upon special request.  Some of your pet's ashes can be inserted in the special pendants.
When you choose the Individual cremation, we offer 3 different ways of returning the ashes to you depending on what is most convenient for your family (see Return of Ashes Form)  You will be contacted when your pet's ashes are ready so that appropriate instructions may be given.  This is why it is very important that you provide us with all your contact information.
You may also request to have an imprint of your faithful companion in clay (see Paw Print Form and Paw Print page)
Also see the section on Ashes for a description of what is commonly called Ashes but  which should be more correctly termed "Cremains" (Cremated Remains)