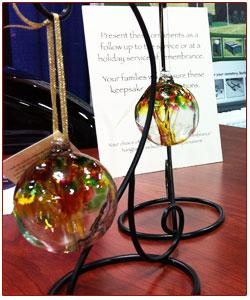 Peaceful Paws (the cremation facility we use) offer many different beautiful and aesthetic custom urns.  You can have these urns engraved with a special message, your pet's name, etc...  If you wish to have your pet's remains returned to you in a special urn, we invite you to contact them directly in order to chose a custom urn. 
If you wish to order a custom urn, please note that it will take longer for you to receive your pet's ashes back due to the fact that Peaceful Paws has to order the urn.  It is best if you let us know ahead of time if you want to have a custom urn.  If you let us know far enough ahead of time, we can have Peaceful Paws order the urn ahead of time and it will minimize the added time to receiving your baby's cremains back. 
If you wish to view Peaceful Paws' custom urns catalog, please visit the following links:
http://www.peacefulpawspet.com/custom_urns.php
Then contact Peaceful Paws at 855-411-7297 or by email at Jennifer.peacefulpawspet@gmail.com to order and for information on prices.
However, if you do not order a custom urn and you receive your pet's ashes in the Peaceful Paws  beautiful standard Cedar Urn, it is always possible to order a custom urn later on.  Cremains can easily be transferred from one urn to another as the ashes are put in a sealed plastic bag which makes it really easy for you to transfer to a different urn.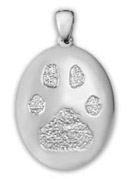 In addition to that, if you have a special urn that you would like your pet's remains to be returned in (like a special urn that you found previously, or one that you made yourself), you can give it to us and we will send it along with your pet to the crematory and they will place your pet's remains in your own urn.  Or, if you prefer, as mentioned above, you can wait until you receive your pet's ashes in their normal cedar urn and you can transfer your pet's ashes in your special urn yourself afterwards.

You can also have some of your pet's ashes encased into a pendant or other jewelry. 
You can even have your pet's ashes turned into a diamond (see Creative Ways of Memorializing your Pet)