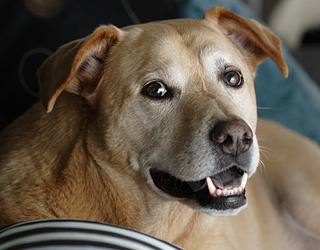 Leo was a dog that had a second chance.
He was discovered at a retriever rescue site on the Internet, and it was love at first sight. After visiting him, he was the only dog amongst hundreds that wasn't barking for attention, and after opening his cage, he walked out so proudly and wanted to ever so badly go home with us.
Leo was one of the kindest dogs you would ever know. He loved to listen and was inquisitive and smarter than most. For these reasons he became the logo of the Tuner2 HiFi Streaming iPhone App.
A few years ago, he was diagnosed with cancer. With continuous care, Leo enjoyed a very good quality of life, until late November 2009, when things took a turn for the worst. A week later it was his time to go. In obvious discomfort, we couldn't bare to see this continue, and the inevitable had arrived.
Dr. Annie Forslund was recommended by Leo's veterinarian, Dr. Beighlie. This was truly the worst day of our lives, but Dr. Forslund help us through this difficult time in a very compassionate manner. Leo chose to sleep peacefully in his own backyard.
Leo will be missed in more ways than words can describe.
Greg and Nap