Loving Memories Of Our Taz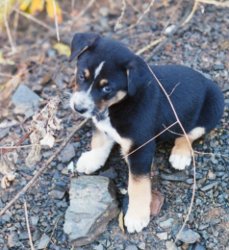 Taz, born 11/22/1998, was our first family dog. A dog was the only thing Dustin wanted for Christmas. We will never forget that Christmas morning. We had Taz in a box surrounded by stuffed animals. Dustin was looking at his other gifts under the tree and in his stocking when we asked him what was in the box, he looked and said I don't know just my stuffed animals and as he started to looked away Taz raised his head and Dustin screamed. It was our best Christmas ever. Taz was a stuffed animal lover ever after. A friend's daughter came over with a stuffed bear under her arm and Taz kept coming up behind her trying to pull the bear out, anything stuffed that came in the house he thought was his.
Taz was an extremely smart dog, he played hide and seek with the kids. He would sit beside me while they all went and hid then he went around and found them. He learned that if he got a toy or a sock when one of us came home he could lure Cookie (our other dog) away so he could get all the petting he wanted. You could watch him plotting some mischievous act, like stealing some food or sneaking away, you could just see it in his eyes. Dave had him very well trained, never went into the street (except on his excursions alone) and would stay outside while we went inside a restaurant to eat. If he was told to wait he would sit and drool but not touch a piece of meat until he was told it was ok, even if he was left alone with it. Being a herding breed he would chase the kids and try and herd them up when they were all outside playing. He loved dog beach (the happiest place on earth) once we hit the 405 freeway he knew where we were going and would start whining. He was a real whiner, whined for everything. He loved to go to Kern River and wade into the river rolling rocks, he could spend an hour rolling rocks into a pile. He loved to play ball, not fetch, he always refused to bring it back to you, he would drop it a little close but never right in front of you. He was a chocoholic, and was obsessed with all food. He checked all trash cans and any wrapper on the ground for something to eat. He lived for treats. Every morning and every night he would sit in the laundry room looking at the treats then at us to remind us it was time for a treat. On weekend mornings, while laying in bed you would hear him come in give a big sigh then plop down on the floor hard as if he was saying I'm bored let's go have fun. We had a problem with him running away and there was one time we couldn't figure out how he kept getting out until Dustin went out in the alley and called Taz and saw him push on the gate and it would unlatch then pull it open, we had to put a stick in the latch to solve that problem. When he would run away we propped the front door open with a shoe and he would come home in the middle of the night push the door open and go straight out to his dog house knowing he was in trouble. He never slept in his dog house any other time. Taz was the best dog any of us ever knew, smart, loving, playful, protective and mischievous.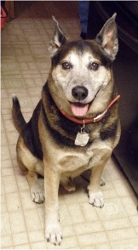 In Sept of 2009 Taz was diagnosed with an inoperable tumor in his head. It distorted the shape of his skull and grew behind his eye. During that time Dr. Forslund came into our lives and she was such a comfort and help. Whenever we had questions we could always count on her to answer them. She replied to our emails quickly and was so supportive. We had contacted a previous organization and were told to give them a call back when it was time, no compassion all business. Then I found Home Pet Euthanasia of Southern California and what a difference. She responded with care and concern asked us for a picture of Taz and asked us questions about him and his condition offering her time if we needed to just talk. We called Dr. Forsland for an appointment thinking it was time and when Dave walked in the door and Taz was at the door tail wagging all excited so at the last minute we called to cancel and Dr. Forslund was so understanding and supportive. That night we took Taz on a 2 day trip with us and forgot his pain meds, we called Dr. Forslund to see if there was anything over the counter we could give him. Found out there wasn't but Dr. Forslund called a couple of pharmacies in the city we were headed for to see how late they would be open, called our treating vet and had them contact us to call in a prescription for Taz at a pharmacy close to where we were. She then called us the next morning to see how he was doing. She wasn't our treating vet, who was also great just not as available as Dr. Forslund, but she went out of her way to assist us in keeping Taz comfortable to the end. On January 8, 2010 we gave Taz a steak dinner (he was allergic to beef and hadn't had steak in a few years) and a chocolate truffle then Dr. Forslund came to the house and helped us do what we knew in our heart was the best for Taz and let him go with dignity, in comfort and surrounded by love. Dr. Forslund then contacted our two vets to let them know, took care of the cremation process and sent us a death certificate and wonderful poem. She called and emailed a couple of times to check and see how we were doing and how Cookie was taking the loss of her best friend. We can't say enough about how wonderful Dr. Forslund was during that time and highly recommend her services to anyone going through the loss of a loved and dear pet.
Sincerely,
Dave, Laura and Dustin Flynn,
Fullerton
2010