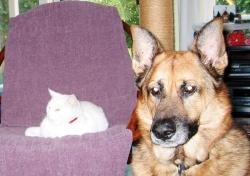 Dear Dr. Forslund,
Thirteen years ago at the local animal control facility, I learned my white cat had been brought in dead, apparently hit by a car on a busy boulevard.  Too upset to drive home, I found myself wandering the facility, quietly sobbing and wondering how my cat had gotten so far away from home. When a volunteer asked me if I was okay, I told her what had happened. She gave me a hug and asked if I would consider adopting another cat that needed my help. I shook my head, saying that I couldn't even think of a replacement pet. She begged me to reconsider because she had fallen in love with a wonderfully sweet young cat that was scheduled for euthanasia in just a couple hours. The woman stepped aside to allow me to see into the cage, and I couldn't believe my eyes.

By a strange twist of fate, the little cat looked exactly like my cat had looked years earlier when a golf course groundskeeper had caught her & tried to find the owner for days without any luck. The kitten at the pound even had the same black smudge on her head as my cat. Putting aside my own grief, I brought home the young cat to join our family, which included our new shepherd-lab pup, Bud, who was the same age. My daughter named her Pinky for her pink nose.

On the same day that Dr. Forslund came to our house for our beloved shepherd-lab Bud, our white cat Pinky stopped eating and I assumed she was mourning the loss of her friend. But after a few days she grew worse. Lab tests showed kidney failure. Exactly two weeks after Bud died, Dr. Forslund returned to our house to help Pinky make as peaceful and loving  a transition in my arms as Bud had done.

It has taken me many months to write this memorial because the loss of Pinky was the fourth loss in my life in a short period of time. My parakeet died two days before my mother died. Bud died on the two month anniversary of my mother's death. And Pinky died two weeks later. I honestly don't know what I would have done without Dr. Forslund. Her compassionate services still touch my heart, and I will always be deeply grateful.
Susan Phillips,
Long Beach