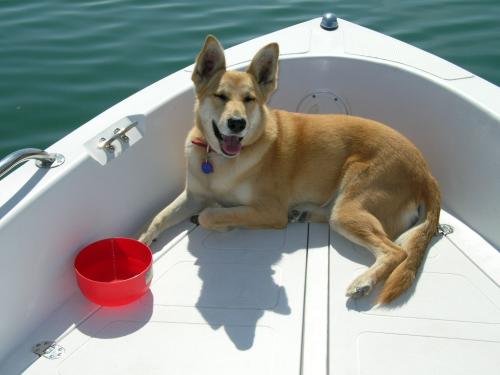 Dear Annie, 
I have had a lot of animals and dogs in my time but my Roxy girl was special.
Her story:  I happened to see a bunch of puppies running around because they got out of the yard through a hole in the fence.  There was a major street that was close to where they were so I was prompted to go to the home and let them know the puppies were out.  They thanked me and let me know that most of the puppies were earmarked for homes already.  They were a mixed bunch.  The owner asked me if I was interested she had one left.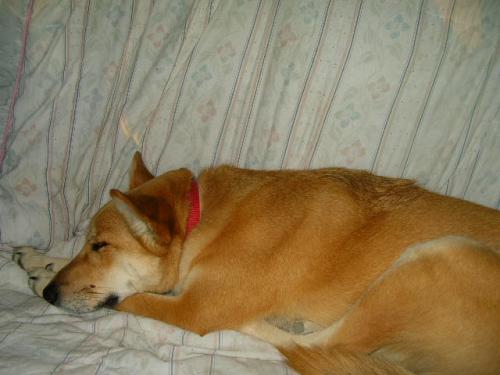 I was new in the area and had recently bought a house as a single woman. I had a huge yard and thought, well why not see what she has.  She brought Roxy out and I immediately fell in love with her.  They had named her Roxy and I loved the name as well so I kept it.  She was about 3 months old and a soft butter ball.  I asked how much, she said oh, there is no charge, we are giving the puppies away.  I said, Free?, she said yes.  I said I will be back in an hour with my truck and puppy gear.  Roxy was a mix of Shepard, Lab, Collie and Australian Sheep dog.  All really good dogs.  She had one ear that stayed at half mass for a little while and I thought, well she might have a little issue.  A week later that thing stood straight up and the Shepard starting taking affect.    She was a gentle dog but knew her role as my protector.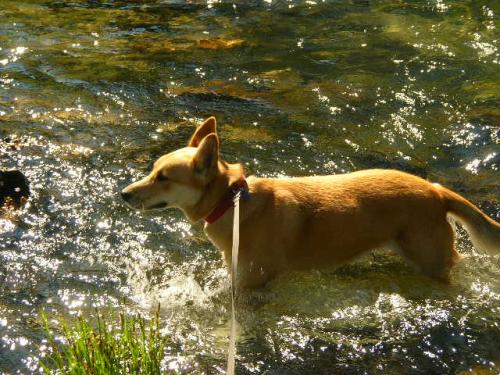 Her bark was fierce, but she would not hurt anything.  Somewhere I have video of her being attacked by a kitten I got later.  She was so gentle with the kitten, it was so cute to watch.  I recall her 1st 4th of July. I had her in the back of my truck while we watched fireworks.  The noise never phased her.  She was calm and just happy to be with us.  I purchased a travel trailer later on in our lives and she went camping with me everywhere.  She loved the river and being up front in the boat while we cruised the water.  She had a little bit of a wild wandering side to her though.  She liked to go explore, but never went farther than she could turn around and see me.  If I became out of site, she came back looking for me.  I found that to be the way to get her back if she took off on her own.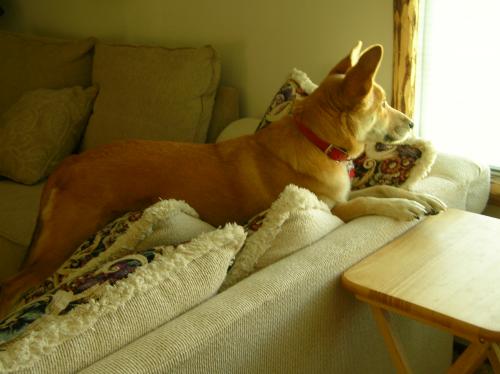 As her mama I worried about her getting away from me and something happening to her, luckily nothing ever did.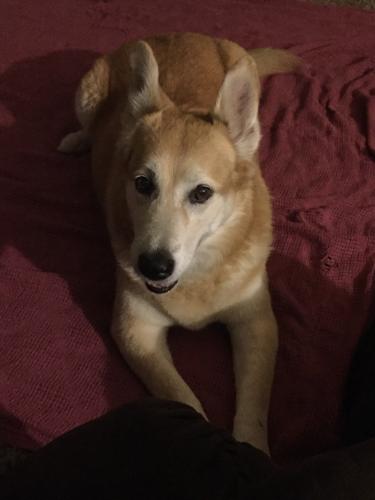 She also had no problem taking on the wild Donkeys at the river. Also a frightening experience for me. She was not afraid of protecting her mama. I took her to Oregon with me and because of her wandering I had to make sure she was leashed.  Well, she was young and strong and I looked away for a second, my mistake.  She took off with me in tow.  I had her leash in my hand and she bolted across the lawn chasing a bird and yanked my shoulder so hard that I fell on my rump.  Funny now, but oh boy my shoulder and pride hurt for a minute. Roxy was fortunate enough to grow up in one house and live out her entire life there.  Which was one of the main reasons I wanted her to leave this world in the same place.  Her soul will remain with me.  She is missed and cherished in my heart for all time.  
Carla Angelico
Moreno Valley