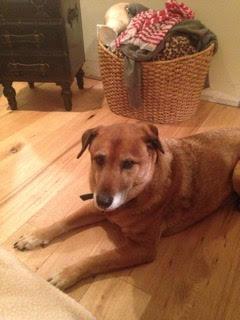 We are so grateful for you and your organization, Dr. Annie. Everyone from the first person I talked to when I called was so kind and compassionate, and it helped make this sad transition bearable for our family. Dr. Meg came to our home showing us great kindness and patience. She explained the process and gave us the space we needed to say our goodbyes. 
Jake was the most wonderful dog we could ever have asked for. We rescued him from a local shelter, and from the moment we saw him, we all felt an instant connection with him.  Jake loved chasing a ball, he loved to sun himself in the yard, go on walks, and play with the neighborhood dogs, but mostly, he just loved being with us. And we loved him being with us. He was the most gentle, well-behaved dog anyone could ever ask for. He loved kids, other dogs, and even our two cats from the very beginning. Anyone that met him loved Jake- we could take him anywhere- his tail wagging at everyone we passed. 
It's been over a month since we had to say goodbye to our beloved Jake… and we still miss him so very much. Jake had lived with Addison's disease for 5 years, but now there were more complications. It was such a hard decision to make- we couldn't imagine life without our furry friend by our side. We'll always love our Jake, and will miss him and his constant companionship immensely. We take solace in the knowledge that we feel that we gave him our best in life and the most peaceful, loving transition to the "Rainbow Bridge". Thank you, Dr. Annie.
Katie and Rick Stamy
Newport Beach