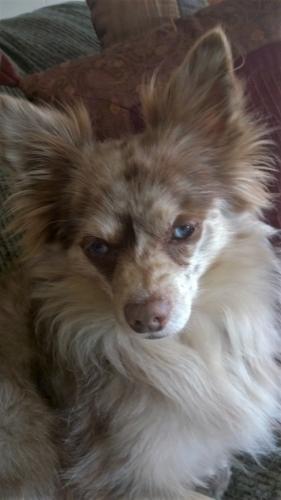 Dr. Annie was full of love, respect and loving countenance. Each one has such a kind and compassionate voice and started the process of easing our "pain". Working with the gals in the office was to first step to peace. I searched all over to find a "home visit" vet to help with our Cocoa Puff's passing.  Finally my vet suggested Dr. Annie and we were so grateful.  Words cannot give her justice.  Honestly once we found Dr. Annie our healing began.  She is a very compassionate conscious wise woman and we are grateful.
 
Cocoa Puff came to us at 7 weeks old.  He lived a full life with us for 13 years.  Cocoa loved to play ball at the ocean and hold his head out the car window and let the sea breezes blow up his nose. Bruce my husband taught Cocoa how to fetch at 8 weeks and from then on we had a champion ball player in the family.
Cocoa was a very unique guy.  Chocolate merle in colour, long coat standard in size chihuahua.  Yes standard chihuahua for he was 12 pounds.   What a beauty he was. Our other long coat chihuahua Dante is the cutie.  The cutie and the beauty!  Cocoa loved living with us. Each day brought a new adventure at the park or the beach or just around the block.  He was by my side always whether walking, sleeping, going to my yoga classes or sitting on the back of my easy chair. One day on said chair he threw his head back and howled like a fox. Yes a fox. That was what our Cocoa looked like.  A fox!
Cocoa thank you for coming back into our lives so quickly after departing for we know you have reincarnated into our big red cat Murray. 
 
Blessings,
Lakshmi, Bruce, Heidi, Dante and Murray
Huntington Beach