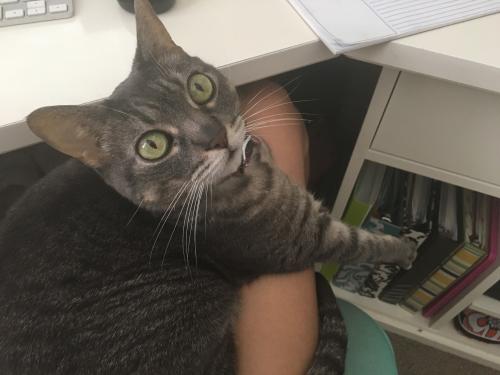 Dear Dr. Annie,
Thank you for making the painful process of saying goodbye to our beloved kitty, Chloe, a little more bearable. It was by far one of the hardest things my husband and I had to do, and we could not have asked for a better way to do it. Allowing her to pass in the comfort of her own home, surrounded by loved ones, was truly the way to go. Your compassion and care for her touched our hearts, and we'll never forget your kind words and patience during that difficult time.
Chloe was the runt of her litter, a spunky little thing, with such a big heart. She was my best friend. A truly perfect kitty in every sense of the word. She was warm and loving and extremely cuddly! She'd jump five feet in the air, cling to my shoulder like a monkey, and perch herself there. She'd sleep in my hair and purr while giving me kisses. She'd stretch out on her back, knowing I'd kiss her tummy. We adored each other. I miss her everyday. I'm so grateful for the 15 years I had with her. She was perfect to the very end. My husband and I will love and miss her forever.
Thank you, Dr. Annie, and your entire team, for everything. It made all the difference.
Jennifer Davies
Aliso Viejo