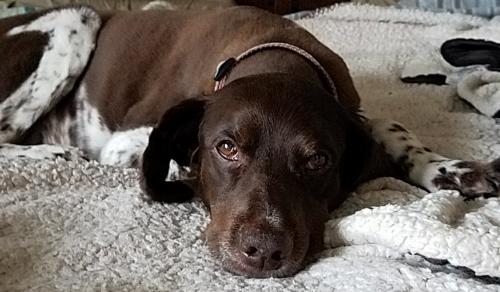 We first used Home Pet Euthanasia of Southern California when we had to make the decision to help our male dog, Moe, cross Rainbow Bridge. Dr Annie, made it so peaceful for us and Moe that when it was time for Trinity we again made the decision to do home Euthanasia. Dr. Meg was so caring and thoughtful, to not only our baby girl but to us as well. Her kind words and support were what we needed and helped us get through the process and eventually heel our hearts.
Our girl Trinity…Trinny, Trincess, Trin Trin, she was a special girl. We adopted her from a rescue group when she was 3 years old. She loved to snuggle, and was such an affection sweet dog. She loved to swim in the pool, dig really deep holes in the yard, loved the dog park and loved to go on walks. She greeted everyone that came in the door and never met a stranger. She was our dainty princess some times and our fearless huntress at others, she caught a lot of lizards, and once brought a baby possum in the house (possum lived and was set free at 2am in the morning). She kept the birds and cats away with her diligent patrols of the yard. She was a beauty with soft fur and the sweetest personality. We miss her every day and so does her fur brother. Hope she is having fun playing with Moe on the other side of the Rainbow. We love you baby girl!!
Thank you Dr. Meg and Dr. Annie!!
Best Regards,
Teresa Pellegrino
Buena Park