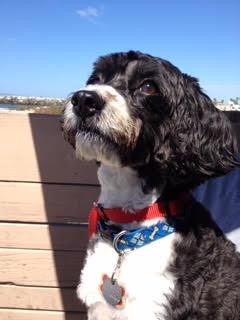 Dr. Julie was amazing. I'd like our veterinarian to know how peaceful Riley was after the initial sedative. Dr. Julie told us it was not only a sedative but a powerful pain reliever. 
Riley's breath calmed and he was truly relaxed so we know it was the right thing for him & that he was no longer suffering.
The holidays were hard without Riley. We miss him terribly, but we are becoming more able to laugh about things he'd do and remember the joy and love he brought us every day. At midnight on New Year's Eve, we commented how we were glad Riley wasn't having to be afraid of fireworks any more.  
Riley was the sweetest, most loving dog - a Cavachon. Being part Cavalier King Charles, he loved nothing more than sitting on our laps, cuddling and being cuddled. And also being part Bichon, on a daily basis he would go "Puppy Crazy," tearing through the house or yard. He could run so fast! Riley made us laugh every day, and brought such joy to everyone he met. We miss him so much, but know that one day we'll be with him again. 
Thank you and your whole Team. Please give our best to Dr. Julie. Everyone we talked to was calm, kind and clear in their communications. Your website was a tremendous resource and provided so much valuable information.
Russ and Barbara Roberts
Cypress