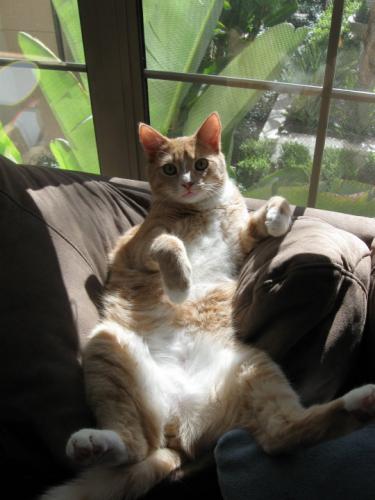 First of all, Carl and I wanted to thank you all and Dr. Julie for being so supportive and kind during this time for our family. We knew we wanted Puff to be home and comfortable when the time came, and you provided that gift to us. I am emailing to also provide you feedback. I hope it helps :)
I would say that the experience as a whole went better than expected. Of course, this decision and decisions like this are never easy. But we knew most of all that we didn't want Puff to suffer. Dr. Julie made the process a bit easier to deal with (as much as could be expected anyway), thanks to her gentleness and understanding.
Dr. Julie has a very calm demeanor and her presence is quite comforting. When she arrived, I immediately ran to the door and hugged her. Carl and I were very appreciative that she had come to be our angel of sorts to help our little Puff.
As far as suggestions to improve, I don't really see any. I think the entire experience from start (Carl making the appointment on the phone), to Dr. Julie arriving was all handled as well and professional as could be. 
We were not referred by anyone for this service. We just got lucky and found you by a Google search, and we are so thankful of that.
Overall, again we really just want to thank you. We had Puff since he was about 8 weeks old, and thought we had many more years left with him. But unfortunately his condition cut that time much shorter. With that said though, you gave us peace and comfort knowing that he did not continue to suffer or be in pain. He was peaceful and comfortable in his home, with his family. And that is all we could have asked for.
Our sweet Pufferdoodle. We were just going to "look" at kittens when we saw him. I'd always wanted an orange cat and there he was; snuggled up in a little box with a bigger kitty. We knew he was the one. From the moment I brought him home from the shelter he was a big talker. He talked all day long. Wanting food, wanting to be pet, saying hello. Puff had words for everything. And he was always knew what he wanted. If he wanted to sit on your lap and there was something there; like a laptop for example, he'd just sit on it. If the part of the table he wanted to sit on had a book on it, he'd just sit and push the book onto the floor. That was Puff. Our little rude boy.
But he was always a love, a comforter, a friend. He always knew when I had a migraine and would lay on the bed with me and keep me company. He'd snuggle with his little brother when they were cold, or find the best sunny spot in the house and sprawl out together. And most of all, he was my husband Carl's best buddy. Puff was one of a kind.
It's still really weird to us that he's not here. I still think I may find him laying in his favorite spots, or in the kitchen asking for snacks. It's true you can't replace a true friend. We wouldn't want to do that anyway. Puff will always have that big, fluffy, orange place in our memories.
Cats really are angels, and Dr Julie helped us when our little angel needed saving. She made saying goodbye a bit easier to deal with (as much as could be expected of course). We know that Puff is free from pain and sickness now, and we want to thank you and your staff for giving us a little peace.
Sincerely,
Carl Brumm, Heidi Webster & Buggy 
Orange