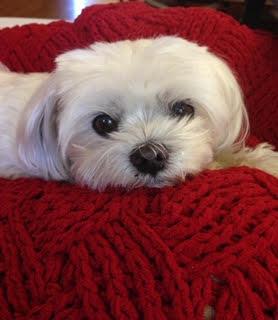 Dr. Lily came to help my Snowflake and she performed her job in such a compassionate and caring way. She gave me as much time as I needed.
I was honored to have Snowflake in my life for four years. I called her my little "Bundle of Joy". She was an important part of the whole family and we all cherished each moment we had with her. Diagnosed with Congestive Heart Failure in 2017, she was such a trooper taking all her meds although losing weight and strength along the way her remarkable little sweet personality remained. Knowing her time was coming soon I made arrangements to have her Euthanized at home. When the day arrived and I knew it was time I called Dr Annie. While waiting, I held her. She turned her little face toward me and stared straight into my eyes with her Big Brown Eyes...as if to say I love you! I talked to her and told her everything was ok and I loved her. I felt she gave me such a gift in doing that.
Snowflake passed very peacefully while I was able to pet and talk to her.
     
After her cremation they delivered her ashes in a beautiful wooden box with a heart attached and Snowflake's name engraved on it.
     
Everyone was so respectful and caring. I thank all of you for helping make a sad situation bearable. My heart is full of beautiful memories of my "Bundle of Joy".
Patty Henkenius
Seal Beach