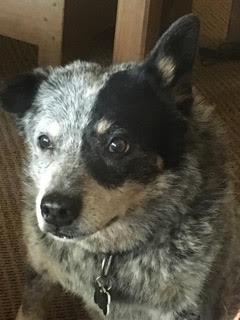 Dr. Dior was so kind, compassionate and all the way. The stretcher and blankets both for the bottom and over our baby really made such a toughing difference Showing the care and respect in handling our baby. You all did an amazingly compassionate job.
I'm so glad there are home pet services like yours available that make it so much more peaceful and less stressful on everyone and their pets and we are so grateful that Sadie Shoofly was at home and in our arms to the very end.
She was our best friend for over 15 and 1/2 years and was blessed with a long life of 16 and a half years. We were lucky enough to have her select us after visiting a pound in Albuquerque, NM when she was about ten months old and since that time she gave us nothing but joy.  Selfishly we wish she could have lived longer but it was time to say goodbye and let her cross.
Now that 2-1/2 months have passed we're in a better place than we were right after Sadie Shoofly crossed the beautiful Rainbow Bridge.
Thank you for making a difficult choice so much better.
Janice and Lee Marsh
Murrieta