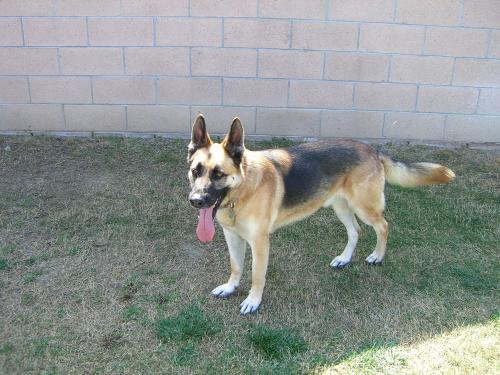 Thank you for Dr. Julie. She was wonderful!
We adopted Keno from Westside German Shepherd Rescue (WSGSR) of Los Angeles in 2011.  We've adopted several dogs from this rescue organization but Keno was special and much different than the others.  I wasn't sure if he had autism, Attention Deficit Syndrome (ADS) or an Obsessive Compulsive Disorder (OCD).  As soon as we brought him home, we notice he had an obsession with chasing flying insects.  At first, this behavioral problem occurred during the daytime hours, but later it progressed and he did this during the evening hours when it was dark outside.  At that point we realized he had some type of disorder. His attention span was short and were unable to train him.  It also took a lot of coercing to get him to eat his food.  That process took 45 minutes to an hour and the other dogs would try to steal his food if we left him unattended.  He would run off into the night and chase flying insects that just didn't exist.  He was always a challenge but we knew when we adopted him that we were in for the long haul.  Like a child who has a disorder, you learn to deal with it. We are patient and we knew we had to give him the best life possible under the circumstances.
He did have some redeeming qualities about him.  He loved his buddy Stubby (our Staffordshire Bull Terrier).  Cleaned his face, ears and paws constantly.  He would also panic and alert us when our two other german shepherds (Puka and Mako) would play too ruff. When they got carried away, he would run in between them and try to dissolve the situation before someone got hurt.  My husband was also a firefighter and he broke his foot during a commercial fire in Carson.  He arrived home with crutches at 4 a.m. in the morning and Keno knew he was injured, jumped up on the bed, sniffed him, licked his face then started licking his broken foot.  It was extremely odd to see Keno jump up on the bed to nurture my husband Wayne since he had never jumped on our bed ever!
The last two months were difficult for Keno.  He had difficulty sleeping and his breathing was labored.  His hips were in bad shape and his right leg shook constantly due to nerve damage.  He refused to eat for three days and we knew  it was time to do the right thing and book the appointment with HPE. Dr. Julie was awesome!  She explained the process, kept Keno calm and comfortable and we didn't feel rushed during our last moments with him.  Thank you again for the wonderful service you provide!  We are eternally grateful for you and your staff!
Kelly Lindberg and Wayne Shimabukuro