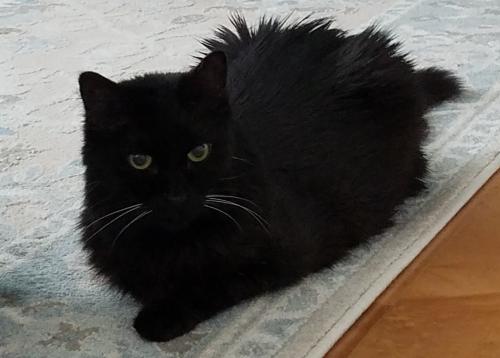 Thank you for your caring and compassionate services when it was time to say goodbye to our beloved Kwali.  From my first frightened evening phone call with Mary, to Dr. Daniel facilitating such a peaceful transition in our home, we will be forever grateful. 
Although we had watched the videos and read the information on your website, nothing can truly prepare you for "that" day.  But Dr. Daniel was so gentle and kind, taking the time to explain the entire process, and going out of his way to be sure we were all as comfortable as possible throughout.  We were able to hold and comfort Kwali in a soft, fluffy towel, on his favorite sofa, while telling him how much we love him.  In less than 30 seconds from the injection, Kwali left his body peacefully and  surrounded in love.  It was a remarkable moment as the room noticeably darkened at the time of his passing, only to be flooded again with sunlight, as the universe seemed to be welcoming Kwali into his next beautiful journey.
      
Dr. Daniel sat with us as we brought Kwali's little brother in to pay his respects.  We then wrapped Kwali's body in his favorite blanket, and placed him in a lovely basket in Dr. Daniel's arms, and then his vehicle.  Dr. Daniel treated Kwali's body with great dignity and respect, which I was confident and comforted to know would continue throughout cremation and sprinkling his remains over the Pacific Ocean.  Dr. Daniel even called to check on us later, and I am sorry to have missed his call.
To say that Kwali was a special cat is an understatement.  He has meant so much and blessed my life so profoundly, providing comfort in the most difficult of times, and sweet silly fun always.  He was the greatest companion I never knew I needed, and the best snuggle buddy in the whole wide world.  He was so trusting, warm and affectionate with everyone he met, that he made me believe a little more in humanity.  I will be forever grateful for my beloved kitty Kwali, and for every minute I got to spend with him. 
I cannot thank Dr. Daniel, Dr. Annie and your entire team enough for providing such a beautiful service for animals at the end of their lives, and for the human families who love them.  It is a true blessing that Kwali was able to pass peacefully and comfortably, in familiar surroundings at home, and one for which I will always be grateful.  Please pass my deepest appreciation on to Dr. Daniel and to all the wonderful folks at Home Pet Euthanasia of Southern California.
Forever grateful,
Michele L.