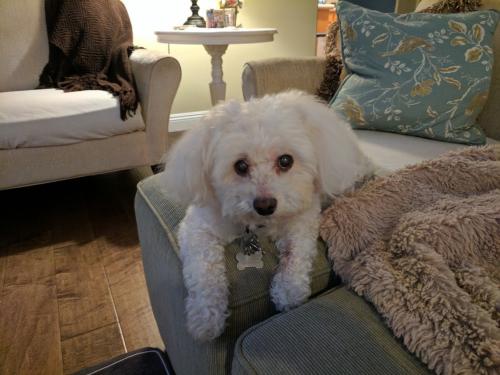 JOEY
Sixteen years passed by way too quickly.  Joey made each day an adventure and one filled with love.  He had a personality that made him seem more human than dog.  Little did he know how much we relied on him for entertainment.  He constantly made us laugh – he knew when to sigh as to reply to your comments, turn his head away when you wanted to take his photo or give you a questionable look when you anything but homemade dog food in his bowl. Yes, he was a pampered spoiled puppy and we wouldn't do a single thing differently!  He loved us and us him.  He was family.  
When that dreaded day came, Joey told us with his eyes he tired.  It was a weekend and difficult to find someone who could lovingly bring him peace.  We wanted Joey to be home surrounded by his family and it was Dr. Annie who was there for us.  Her calming personality, gentle soul confirmed that we were all in good hands.  We were holding Joey as he transitioned from our sweet furball to our puppy angel.  We are forever grateful to God for bringing Joey into our lives. He is in our hearts forever and we are forever grateful to Dr. Annie and her compassionate team for being present during this most difficult time in our lives. 
July 13, 2019: The night our sweet Joey was heavensent. A night that broke our hearts in ways we could never ever imagine. But you-you came to us with such a loving, caring manner, you brought peace to our Joey and for this we are eternally grateful.
A year has come and gone since that night. So many times I wanter to reach out or reply to you email but my heart would not let me. Perhaps I wasn't able to believe thsi was real.  In many ways, talking about Joey was painful for all of us so we had to mvoe on to other things. However, no matter what we did or did not do-we couldn't nor will we ever forget Joey.
Our lives have changed in many ways since that night. We've come to the conclusion that Joey knew something was going to be different and he wasn't prepared for that. He came to us at the perfect time in our life-he gave us so much love, he healed our sadness, he made us laugh, he gave us stories for days. We are forever grateful for this beautiful ball of fur.
My husband's job was relocated to AZ. Our children moved into an apartment together as AZ was not a place they deserved to be. With all the movement within our family, Joey would have been happy. He is, however, wiht me in AZ-his photos stull fill our home with love.
You have been in my heart and in my thoughts this entire time. Your card has been in my wallet as a reminder to reach out and say thank you to you and your loving team. All of you are a gift to those who truly need you. Your role, while not a happy one, is yet a beautiful one. You bring peace and comfort to God's creations and for this we thank you. I'm grateful to you and your team. You're love and kindness shines through all you do!  God Bless!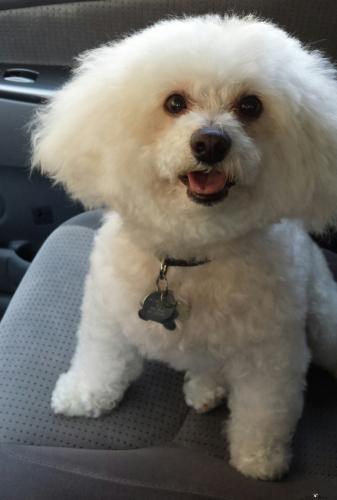 I truly am sorry that this is long over-due. You were nor will you ever be forgotten. We treasure Joey paw prints, his fur and ashes more than words can express!
Forever grateful,
Dwight, Kim, Kevin and Kellie Oylear
Anaheim