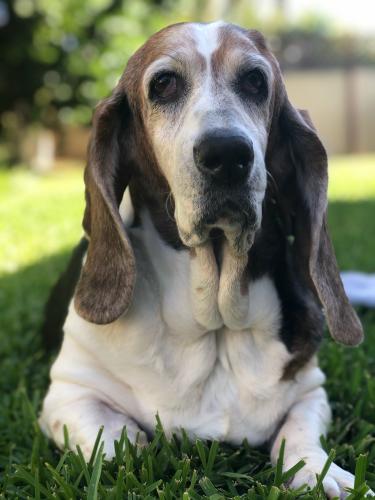 We are so grateful to Dr. Dior and everyone at Home Pet Euthanasia for the caring and compassion that we received during such a difficult time. From our very first phone call with Cris we knew we had found the right place. We had never had an at home euthanasia but the thought of our beloved Ogee being scared and frightened on a steel table at the vet for her final moments was something that we could never consider.
Our baby Ogee was a part of our family for 13 years. To say she was just a dog would be an understatement. She was the most gentle and loving basset hound who loved nothing more than to give you wet sloppy kisses along with greeting you at the door when you came home with her howling greeting as only basset hounds can do.
When we knew that her time had come , we contacted home pet euthanasia and they made us feel so much at ease. When Dr.Dior came to our house we worried about Ogee's reaction to her but within minutes Dr. Dior became a cherished family friend stopping by to visit Ogee instead of vet. Dr. Dior was calm and reassuring ,telling us everything that she was doing and never once did Dr. Dior make us feel rushed. Ogee was on her favorite spot on the sofa surrounded by our family as we all said goodbye and gave her all the love she'd deserved. Never once was she afraid or in fear it was just a peaceful and loving way to let her go. There are not enough words to properly explain everything Dr. Dior did for us on that day. The love she showed to Ogee confirmed that we made the right choice in trusting them with our baby.
Our daughter will be forever grateful for Dr. Dior. During Ogee's final moments she looked to Dr.Dior and Dr. Dior gently let her know that those were the last breaths she was taking. It was a simple display of kindness and reassurance that our daughter cannot thank Dr. Dior enough for. For our daughter it helped her prepare and cherish those last woofs.
After she told us that Ogee was gone and no longer in pain, she let us say goodbye while she went out to prepare Ogee's bed in her car. When my husband carried Ogee to her car wrapped up in her special blanket Dr Dior asked him to place her on the bed with her head on the pillow. We were so touched when Dr. Dior gently fixed Ogee's ears after she noticed that Ogee's ears were tucked underneath her. The small gesture was huge for our family. Ogee's long floppy ears were one of the many things we loved about Ogee. We would often call them her elephant ears and we were always fixing for them her. And the fact that Dr. Dior fixed them like we used too we knew that Ogee was in the best possible care.
A few days after, we had some questions and concerns that we had forgotten to ask on that day. We had questions about the clay paw prints and  when Dr. Annie found out our concerns/questions she immediately contacted us and let us know she was going to do whatever she could to make sure our concerns were taken care of. We cannot thank her enough for personally reaching out during a difficult time and assuring us that everything would be okay.
Anybody who is thinking of doing this service we would sincerely recommend. Every single one of them truly love and care for your pets or babies as they refer to them. The loss of Ogee has left a huge whole in our hearts and our family. There will never be another basset hound like our baby Ogee.
Again I cannot thank you enough you have shown me that what you do is just not a "job" , your caring compassion and concern for our Ogee and all the other babies you help is so touching .  And everyone that we have come in contact with from HPE from the first person who answered our phone call to Dr Dior , have touched our hearts .
 I just wanted to send you a personal thank you for everything you have done for our family . The loss of our Ogee is still leaving a whole in our lives and in our heart. I am just sending this email to you to express my dearest thanks for helping with the clay paw prints , I know you moved the heavens to get that paw print to us and not only did we receive the personalized paw print but we also were given the red clay paw print also , which I gave to my daughter who was especially touched by you thoughtfulness. I don't think I can ever properly convey our thanks to you and everyone we came in contact with at HPE.  I tried many times to try and write the letter but the emotions were just to raw , but the tears was there as me and my daughter were finally able to  write the letter we sent . People have told me to just get another dog , as if Ogee could be replaced . How do you replace something that in my heart can never be replaced ?  Again thank you for your kindness, compassion and love for our Ogee . 
                                                                                 
Harry, Janet and Chelsea Gannon
Glendora