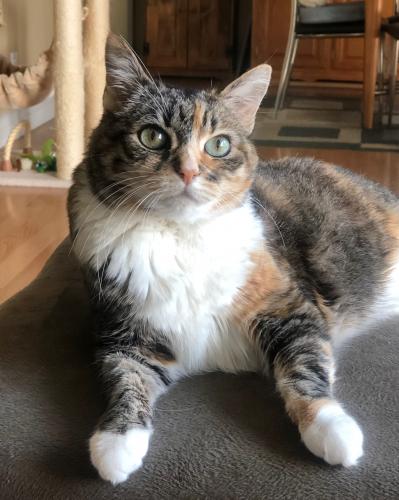 Hi Dr. Annie,
Missing Nala so much but so happy for the life we had together.  
First, my husband and I want to express how grateful we are that you offer this service, and that you do it so well.  We weren't sure it was a 'thing' but once we saw your website we knew it was the only option for us.  We really had hoped Nala's life would end peacefully in her sleep at a much older age, but fate had a different plan for her, and we unfortunately had to make the decision no pet owner wants to make.  Having the option to have Nala stay at home and cross over the rainbow bridge peacefully meant so much to us.  
Dr. Daniel was wonderful.  He treated Nala with respect and compassion, and put us at ease as well.  He was so caring, and very comforting toward us and Nala.  It turned an otherwise horrible experience into something more meaningful.  Our experience with HPE was great, from start to finish.
Nala was the kitty love-of-our-lives for my husband and me, our 'sweet baby', the 'best kitty ever'. She came to us in a way that made us feel like it was just meant to be, like we had been brought together for a reason.  She was a very loving kitty, she enjoyed being with us and just 'hanging out'.  She had a sleeping spot (or two) in every room, always ready for a good nap.  She was just a really good little companion.  Working from home for many years, she kept me company while working long hours, and it was always nice to take a kitty playtime break, or a little cuddle time every now and then.  I looked forward to her every morning, waiting patiently for me to wake up so she could say 'good morning'.  She loved sun-bathing in the windows in the afternoons, and watching the birds in the backyard fountain.  She was so sweet, she would never try to scare the birds, but just watch them with excitement until she had her fill.  
She was so sweet, so loving, and we would do anything for her.  She was diagnosed 2 1/2 years ago with IBD, but we were determined to take it head-on.  A few months later she was diagnosed with diabetes, but she was a sweetheart through that too.  She had no problem letting me jab her twice a day with a needle, she was just a little trooper.  Although we were able to get her off insulin with a diet change, the IBD just got worse, until the last ultrasound revealed we were losing our battle.  We just couldn't overcome it.  It was heartbreaking to learn we were going to lose our sweet baby.
We loved her so much that we didn't want to let her go, but we knew we had to because we loved her so much.  She endured a lot of pain and suffering due to the IBD, and other issues that resulted from it.  She put up a brave fight, always being strong for us.  She was the best kitty anyone could ever ask for.  We know there will never be another Nala in our lives, and we will remember her always, our 'best kitty ever'.  Rest in peace sweet baby, mom and dad love you always and forever.
Regarding the procedure Dr. Daniel did for Nala Dittloff on 8/13/21, the event went better than expected for us.  Both my husband and I were dreading making this decision and really didn't want to do it if I'm being honest.  But it was the best for Nala, we didn't want her to suffer anymore than she already had. The prognosis from the vet wasn't good and we didn't want her to end up in the vet's office in pain and scared while they botched the procedure.
What made it easier was that Dr. Daniel showed up exactly on time, and was so caring.  He completely understood the situation.  He made us and Nala feel at ease.  He knew what he was doing, which I really appreciated because the last thing we needed was to cause Nala any unneeded stress or pain.  The point of this was to keep her at home where she was happy, and to make this as peaceful a process as possible.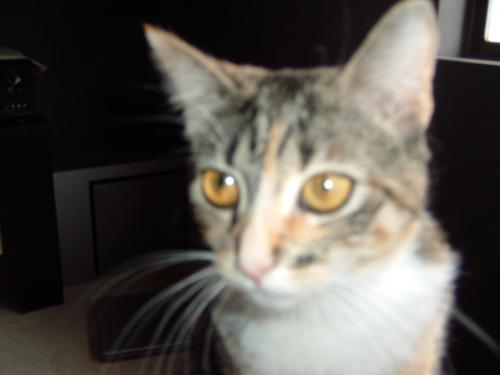 Dr. Daniel was very supportive and patient with us, and he took good care of Nala.  I asked him to place her in the basket, and he did it so lovingly, like she was his own pet.  He allowed us to take her out to the vehicle ourselves to say final goodbyes.  He gave us all the time we needed (although I never wanted to let her go). He answered all our questions and explained what he was doing along the way.  It was very calm and comforting. I would say everything went very smoothly from start to finish.  
We appreciate that you took care driving Nala to the cremation site, as that's not something we would've wanted to have to do.  It was hard enough putting her into the car and watching her go for the last time. I especially appreciate that you contacted the vet for us.  My vet ended up calling me to give condolences a few days after, and I was still a wreck.  So it was nice not having to call them myself.  So thank you so much for offering that service.
We were really happy to receive a personal card from Dr. Daniel afterwards.  It was unexpected, and very nice to receive.  He really did a wonderful job.
I'd say you all did a top-notch job for us during this excruciatingly difficult time.  It has brought us extra peace knowing Nala was handled with respect and care, and it left us feeling extra cared-for.
Thank you so much for your service.  I'm so grateful I found you because the thought of taking her to the vet to do this just broke my heart.  I will definitely share your name with everyone I know who's looking at having to put their pet down.Thank you again,
Liz and Dan Dittloff
Rancho Santa Margarita