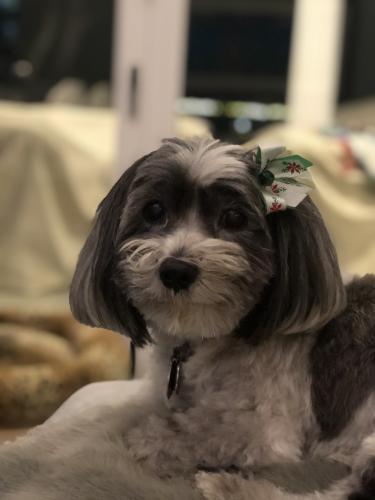 Oreo (Oreo Cookie Face)
Our sweet, incredibly smart and full of piss and vinegar little girl. She was one of the smartest dogs I've ever owned, but that however would get her into a lot of trouble. The moment we went to meet her and two of her siblings at 8 weeks old, Oreo decided we were her family. She bounced into everyone of our laps that day as if to say here I am, I'm yours. 
She gave us almost 17 years of nothing but love. She suffered for many years with often bouts of pancreatitis. I would often think there is no way she will bounce back from this episode, but she would. They became more frequent the last year. We ended up selling our primary residence and moved to our vacation home 3 months before we let her go. It wasn't an easy move for her as her hearing and sight had really deteriorated. Since we were no longer with the Vet we had been with for 10 years of her life we didn't have any real relationship with the temporary Vet. They didn't know her extensive medical history nor our relationship with Oreo which is what let us to Pet Euthanasia. I felt free at experiencing every emotion in that moment by being able to be at home. Oreo was also never comfortable going to the Vet so knowing I didn't have to put her through that stress was also a relief. It was comfortable for all and seemingly painless other than on my heart. Thank you!
Lori Gorvetzian
Canyon Lake