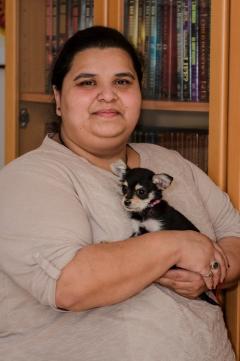 I was born Southern California and grew up in a small city named Paramount. Growing up my home was always full of pets. My childhood pets included pigeons, cats, parakeets, dogs, bunnies, hamsters, and fish. It was this early human-animal bond that ignited my interest in animal medicine.
During my senior year in college, I started working as a veterinary assistant at a well known and respected veterinary specialty practice in West L.A. It was there that I felt right at home and it was there that I realized that I wanted to advance in my veterinary career.
After 4 years of undergraduate studies I received a degree in Biology from UCLA in 2005. I continued to work as a veterinary assistant for a couple of years then I was accepted into Western University of Health Sciences College of Veterinary Medicine. During veterinary school I nurtured my passion of the human-animal bond and my innate empathy for animal.  In 2011, I received my DVM degree.  I've  worked as a general practitioner in the High Desert and as an emergency clinician in Orange County.
When I am not practicing veterinary medicine I love spending time with my family (especially my two nieces Melanie and Leslie), my two cats (Jane and Shasta), and my four dogs (Dolly, Dalila, Dotty, and Darla). I also enjoy gardening, reading, hiking, and I have recently taken up photography and guitar.
Professional information:
Dr. Lilia Enciso Casas
CA license 18634
What others say about their experience with Dr. Lily:
On YELP: 
Holly B
Chino Hills, CA

I am forever grateful to Home Pet Euthanasia and the wonderful people that make up this organization.
Our incredibly sweet 10-year-old cat was diagnosed with Hemangiosarcoma (a very aggressive blood vessel cancer that mainly affects older dogs) in late July 2020 - the two Chemo treatments in August were no match for it. By late August, the cancer had already spread to multiple organs. At that time, I researched home euthanasia services and chose Home Pet Euthanasia because of their ability to handle emergencies & they traveled to our area. I didn't want to have to take our baby girl to a cold emergency clinic.
We had one lovely last month with our sweet Luna Belle in September. On Sept 28th, her health was rapidly declining. As soon as my husband got home from work, I called Home Pet Euthanasia - Mary quickly, calmly & kindly helped me and arranged a Vet to travel to us ASAP. Dr Lily arrived within 30 minutes, assessed the situation & swiftly, adeptly & gently helped our petite furry babe pass. We were able to have some time afterward to say our final goodbyes and let her fellow feline "siblings" say goodbye as well. Dr Lily was so kind, empathetic and patient and, even tho it was getting later in the evening, we never felt rushed. Her compassion exuded from her. She even had a sweet basket with fluffy blankets in the back of her vehicle for us to lay our tiny girl on & cover her  You can tell they know how hard it is to say goodbye.
I HIGHLY recommend Home Pet Euthanasia of SoCal to anyone looking into home euthanasia services and I hope my review has helped in your decision - if Home Pet Euthanasia of SoCal covers your area, you and your furry child will be in excellent hands.
James J
Aliso Viejo, CA
5/7/2020

My sweet Golden Retriever had reached a point where we knew that she was in pain and her quality of life was not there.  She couldn't get herself up anymore, and the sparkle in her eye was not there.  A trip to the vet confirmed what we already knew, it was time for her to go to the Rainbow Bridge.  I didn't want her last moments to be in a sterile office on a metal table, instead thanks to the kind and patient Dr Lily our dog took her last breath with me rubbing her back, in my wife's lap, with our daughter holding her paw.  She was surrounded by the people who loved her.  
This is a terrible time, but we are so glad we found this service and highly recommend it.  They responded quickly, professionally, and with kindness.  My family misses her every day, but we are relieved at how Jazzy's life ended.  Make sure to do the research on the web site, we will well prepared for the entire process.
Paige H.
Fullerton, CA
8/31/2016

I would highly recommend Home Pet Euthanasia. Saying Goodbye to our little sweet dog Monkey was so hard but HPE made it so much easier. Yes, it can get it expensive but it was worth every penny. Monkey was able to go to rest here, on her favorite spot on the couch surrounded by her whole family. We got to give her kisses and tell her how much we will miss her, all the way up until the end. Dr. Lily was kind, gentle, and very professional. We even got to spend some time with her after, saying our last goodbyes.
Mary K.
Anaheim, CA
12/27/2016

A week ago, we had to say farewell to our beloved dog, Lilly. She had bone cancer, and and although our hearts were breaking, we knew we needed to ensure she was not in pain. Rather than taking her to the vet's office, we found Home Pet Euthanasia. We wanted to have our girl at home, surrounded by her family, not stressed.
HPE's website is very thorough and compassionately written. The staff on the phone was kind and understanding. When the time came, Dr. Lily was calm, reassuring, explained everything in the process, and so respectful of our family.
It's not a day that anyone looks forward to, but when it has to happen, this is the best way. I'm very glad I found this business; they made such a difficult experience much better.
Susan A.
Glendale, CA
5/1/2021

Now that I look back, I wouldn't have wanted my dog to leave Earth and return back to the celestial world her soul derived from in any other way. I thanked God every day I was blessed by her wonderful loving presence and even after I let her go home (back in God's loving light) I still keep on thanking God that he gifted me with my beautiful Rosie. I was very impressed by the tranquility that Dr. Lily provided which allowed for my dog to peacefully pass. I kept my dog comfortable and calm by medications prescribed from the vet but even then, as we started, my dog didn't even realize what was going on (thank god) as Dr. Lily tactfully gave pain medication with a tiny needle to help calm my dog. She didn't even realize she was having an IV inserted. I was impressed by the vet's skills. I miraculously remained brave for my baby girl. After spending as much time as we wanted with my girl, I gave the okays to proceed the professional painless process as I sang to my little girl and gave her love and pets as she lay her head on my lap. Even as a nurse myself, Dr. Lily explained everything to me and answered my questions. I kept my brave poker face on for my baby girl up until it was confirmed that my dog was finally able to sleep after weeks of not being able to peacefully slumber like she used to. As my neighbors asked where my dog was the following week, I told them how she peacefully passed and the former pet owners described their scary stories from the euthanasia done at their pet's clinic. Oh my God. I will never wish that even on my enemy. No dog and owner should unknowingly permit to such torture my neighbor described. Once I reached acceptance as part of the grieving process, I once again thanked God for my baby and thanked him allowing my Rosie pass very peacefully. I'm so glad this service popped up on my online search. They were the only place who heard how desperate I was after my primary vet notified how me how fast the cancer spread. They heard the pain and fear in my voice over the phone and were very patient and quick to accommodate. I chose to keep my baby with us at home until the morning when I took her to Cal Pet Crematory which was also very accommodating to me as I wished to confirm the cremation of my Rosie. (You have the option to have your pet remain at home with you after to pay your respect/say goodbye) Thank God for HPE SoCal. As I kept on telling my friends and family, I wasn't crying because I allowed Rosie to leave our cruel and wicked world that abandoned her. As a mama bear, I protected my dog from further suffering. Please do not feel guilty or afraid of home euthanasia. As a nurse, I see ailed adults die in the hospital and after experiencing my baby girl return to heaven as she laid her head on my lap, I thought to myself: "God, if only it was this peaceful to pass as a human."
Trish G.
Corona Del Mar, CA
4/23/2017

I've wanted to write this much deserved review but kept putting it off because I'm still so heartbroken :/This past Jan. and just a month ago in March my husband and I were hit with the difficult decision to euthanize our 2 cats ( blessed angel babies). Both were in the end stages of renal failure and I did not want them to suffer. My persian Penelope Rose was the first to give back to God, and Poppy my himalayan followed his sister on March 21st.  I'm so grateful for finding this compassionate service...  Dr. Lily on short notice came to our home and made us feel like we were her own family.  She made sure that this very difficult time was given the utmost sensitivity and respect we were hoping for.  I would highly recommend Home Pet Euthanasia to anyone having to make this heart wrenching decision for their pet babies. ~God bless~
Karin G.
San Francisco, CA
1/22/2021

We have the highest praise for Home Pet Euthanasia of Southern California. It was so difficult to say good-bye to our sweet Roxy who was with our family for over 15 years, but they made it so much easier. They were quickly responsive, compassionate, and caring. The information they provided helped us to prepare, and Dr. Lily was kind and sensitive and made the experience peaceful. Having this done at home made it loving and removed stress and from Roxy and from us.  We are so grateful.
Christine F.
San Francisco, CA
5/4/2021

This whole entire team of people were truly amazing at such a painful time.They were compassionate kind and so very gently informative about the whole process.  What a wonderful peaceful experience for our Puppy and our family  Thank you for helping us put him out of such pain and to go in a quiet peaceful environment.  Dr. Lily is so sweet and gentle.  What a wonderfuly human being. Thank you all.
A R.
Huntington Beach
4/6/2021

Dr. Lily came into our home with such grace. She gave our dog comfort and love. Dr. Lily explained every step so we were prepared. The whole process was done with such care. This was our first time using a service like this and we were so glad we did.
Susan B.
Orange
4/6/2021

I had to euthanize my 16 year old lab yesterday and had a very peaceful and personal experience. Dr. Lily came to our home and was kind, compassionate, gentle, loving and considerate of both my family and my precious dog. She made an extremely emotional and difficult day a little easier to bear.

Liz M.
Tustin
2/24/2020

Dr. Lily was so kind and comforting. She would keep us informed of what she was doing and made a very painful experience a bit easier. It was hard saying goodbye to our best friend but we are thankful for how gentle Dr. lily was. I appreciate how she walked us through what was happening.
Testimonials on our website about Dr. Lily