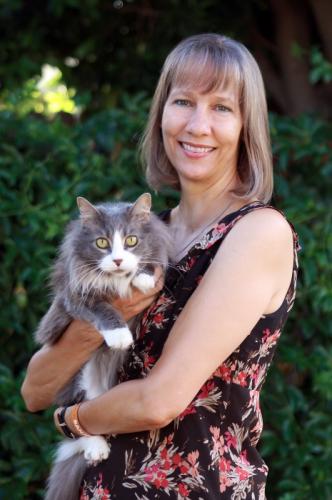 Julie's story! I was born in Germany, but spent most of my life in Virginia. I have always had an interest in caring for animals. As a child I collected injured bugs, turtles, snakes, and lizards and strolled around with them in my doll buggy (no pun intended!) rather than the intended dolls. I worked at a stable during high school caring for and feeding horses before and after school. After high school, I earned an associate degree in Applied Animal Science, became a certified veterinary technician, and worked as a veterinary technician for 9 years before deciding to further my education. I received a Bachelor's degree in Biology from Virginia Tech in Blacksburg, Virginia and my veterinary degree from Oklahoma State University (OSU) in Stillwater, Oklahoma. I then worked in a general practice in VA Beach, VA for 9 years. In my quest for more knowledge I pursued a residency in internal medicine which I completed at OSU in 2006. I have written or co-authored several articles in a variety of veterinary journals. 
Since moving to California in 2006, I have been working as a locum internist in a variety of specialty internal medicine practices. I also have been working as an internal medicine consultant for VCA Antech Diagnostics since 2009. Soon, after settling into the California life with my husband Dan, we decided to volunteer as foster parents for the Southern California Golden Retriever Rescue League, but immediately failed FOSTER 101 as we ended up adopting the first 3 senior dogs that came to live with us (Rosko, Spree, and Krystal)!! Since then, however, we have successfully fostered over 25 dogs! We currently have 2 older rescues named Mobey and Couper, and 2 black cats named Radar and Stella who are happy to share their home.
I had the pleasure of speaking with Dr. Annie on the phone in April 2011 when she called the practice I was in letting me know that she had put one of my dear patients to sleep. We spoke for a little while and realized that we had so much in common and there was an instant desire for us to work together.  So I shifted gears a little and have been working for this wonderful company on a part-time basis since then. I realized that being able to put your sweetheart to sleep in the comfort of your own home is such a gift and I am so blessed to be able to help in this capacity. I have always been a compassionate and caring person and I love that I can help ease the pain and suffering of our 4 legged friends when it is their time to leave this world and allow them to peacefully move on to heaven with the love and dignity that they so well deserve.
"Dr. Julie was so sweet and incredibly kind. Couldn't ask for better. Every aspect her visit showed complete love and concern for us and our poor Buddy. She made a horribly sad time more bearable. Highly recommend this company. So much nicer to help your pet cross the Rainbow Bridge in the comfort of their home with all of their loved ones around them instead of on a cold metal table at the vet's office."
Barbara L, pet mom of Buddy