Julie's story! I was born in Germany, but spent most of my life in Virginia. I have always had an interest in caring for animals. As a child I collected injured bugs, turtles, snakes, and lizards and strolled around with them in my doll buggy (no pun intended!) rather than the intended dolls. I worked at a stable during high school caring for and feeding horses before and after school. After high school, I earned an associate degree in Applied Animal Science, became a certified veterinary technician, and worked as a veterinary technician for 9 years before deciding to further my education. I received a Bachelor's degree in Biology from Virginia Tech in Blacksburg, Virginia and my veterinary degree from Oklahoma State University (OSU) in Stillwater, Oklahoma. I then worked in a general practice in VA Beach, VA for 9 years. In my quest for more knowledge I pursued a residency in internal medicine which I completed at OSU in 2006. I have written or co-authored several articles in a variety of veterinary journals. 
Since moving to California in 2006, I have been working as a locum internist in a variety of specialty internal medicine practices. I also have been working as an internal medicine consultant for VCA Antech Diagnostics since 2009. Soon, after settling into the California life with my husband Dan, we decided to volunteer as foster parents for the Southern California Golden Retriever Rescue League, but immediately failed FOSTER 101 as we ended up adopting the first 3 senior dogs that came to live with us (Rosko, Spree, and Krystal)!! Since then, however, we have successfully fostered over 35 dogs!  We currently have 2 rescues named Couper and Bentley and two cats named Stella and Parkour who are happy to share their home.
I had the pleasure of speaking with Dr. Annie on the phone in April 2011 when she called the practice I was in letting me know that she had put one of my dear patients to sleep. We spoke for a little while and realized that we had so much in common and there was an instant desire for us to work together.  So I shifted gears a little and have been working for this wonderful company on a part-time basis since then. I realized that being able to put your sweetheart to sleep in the comfort of your own home is such a gift and I am so blessed to be able to help in this capacity. I have always been a compassionate and caring person and I love that I can help ease the pain and suffering of our 4 legged friends when it is their time to leave this world and allow them to peacefully move on to heaven with the love and dignity that they so well deserve.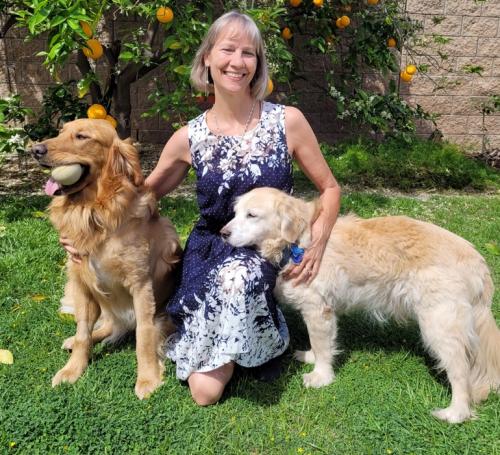 Professional Information:
Dr. Julie Ann Flood
CA License 17007
 
What others say about their experience with Dr. Julie:
On YELP:
Staci B.
Anaheim
9/9/2020


Dr Julie, who came to our home, is an angel of mercy. I can not say enough about the relief and gratefulness for her and this service. Our beloved Arrow sustained an unexpected injury and he declined quickly over several days. His pain increased so quickly we did not feel comfortable moving him so the thought of taking him to the Vet was torturous. HPEofOC answered our call within 15 minutes and came within several hours. Dr Julie helped us support his needs right was he was and validated that it was the right call. He passed away in his home surrounded by his family. I was able to support his needs and my young children who were loosing their first dog all in the comfort and safety of our home. I can not thank them enough. As dog owners who have had to do this before and know we will have to do it again, we will always use HPEofOC.
Nicole M.
Trenton, NJ
7/30/2016


So grateful for Home Pet Euthanasia.  They give so much comfort in doing what they do. Dr Julie came to our home and she was so kind and made it a very peaceful experience. It makes me feel  at peace in knowing we did the best thing for Nico our senior golden by calling them. He crossed rainbow bridge peacefully in his bed.  Thank You again Home Pet Euthanasia.
J. C.
Chino Hills, CA
2/27/2019


After a long battle to cancer, we had to make the hardest decision any pet parent has to make. We loved our dear Roxy very much but we couldn't bare to see her suffer any longer. She was such a warrior. We knew how much she hated going to the vet, so we didn't want that to be the last place she took her last breath. We decided to do home uthination were she would be surrounded by her family who loved her and in the comfort of her own home. As hard as this was, Dr. Julie made the process better. She was very kind and compassionate about the situation. She was very gentle with our baby and once she passed, she patiently waited as we said our goodbyes. We wouldn't have done this any other way. I highly recommend Dr. Julie & Home Pet Euthanasia of Southern California.
Jessica C.
Laguna Hills, CA
10/11/2017


Worst day of my life...made so much easier and more beautiful and dignified than I ever would have imagined. I was a train wreck, could not hold myself together and poor Dr. Julie had to see me like this...not 1 ounce of judgement, but rather love and compassion for all of us. I could not have imagined letting my beautiful girl go in any other way...can not say thank you enough.
Michelle S.
Tustin, CA
8/11/2019


Dr Julie came to my house to take care of my Bella. She was so kind and compassionate. I used another vet years ago and it was not so good. I felt really rushed with the other company. Dr Julie was not rushed and gave us the time that we needed. I am so thankful for Doctors such as Julie that we can have this service at home. Thank You so much!!
B. R.
Cypress, CA
8/31/2018


I can't say enough good things about this service. Everyone I spoke to was incredibly compassionate. The communication was always clear and timely. Their website is full of important and valuable information.
Dr. Julie came to our home and was caring, warm and very clear in her communication.  We weren't thinking very clearly ourselves at such an emotional moment, and she was patient with us and gentle with our precious dog.  We chose to walk out to the car with her and everything about his transport was respectful, down to how she placed him in the car to her slow drive down our street. Thank you Dr. Julie.
If you are in need of these services, I highly recommend Pet Home.
Mike N.
Aliso Viejo, CA
4/6/2019




It's been almost two months since my baby boy Nico left me and this world. Nico was a 9 year old blue nose pitbull, and I had him since he was 6 weeks old. Over the past 9 years I spent more time with him then anyone else, and to see him leave me was and has been one of the most trying tasks of my life. I was consulted on several different ways to euthanize Nico but decided to call an in home company that would come over and allow him to be home in his bed, and in my arms while he passed as well as amongst family. Dr Julie came over and man, I can't say anything but great things about her. The compassion she showed as well as giving my boy the dignity to leave us was nothing short of top notch. I miss Nico everyday, I sense him all around me, he defined the meaning of what a true best friend means, so thank you Dr Julie for helping my baby boy leave this earth at home and peacefully.
Cherisse L.
Orange, CA
11/19/2019


Not exactly a fun situation to write a review but that being said, what a wonderful service we were given. From the moment we called to schedule a home visit, their team was extremely compassionate and empathetic. We loved our dog, like so many of us, and at his time to end he was such a large dog it would have been very uncomfortable and painful for him to go to a vet. We were able to say goodbye in a very comforting way. Dr Julie was patient and kind and explained the entire process. She treated us all with dignity and respect and gave us all the time we needed. It's difficult to say how great the service is given the circumstances, but when your heart is breaking, having someone come to your home to give you a softer place to land is helpful.
Stephanie F.
Westminster, CA
8/11/2020


Today my Tipsy cat went to pet heaven. I cannot express my gratitude to Home Pet Euthanasia. Dr. Julie came and showed so much compassion for me and my pet. She explained everything! and did not rush me. She was so calming and caring and gentle. Even when it was time for the remains to be removed, she pick up my cat like it was just sleeping, she was so gentle. This was a very hard decision for me, however Mary and Dr. Julie made it bearable. If you ever need to make this decision, please for your sake and your pets sake, use this company. I cannot THANK YOU enough. Last thing to mention. The videos REALLY helped.
Christine D.
Lake Forest, CA
6/3/2020


Pet euthanasia was all new to me.  I started my research  when my chocolate lab had reached 14 years of age, with his body & mind showing signs of weakness & pain.  Every vet visit made my lab very nervous & scared. I wanted his last moments with his family to be at his favorite place - at home, on his big comfy bed, surrounded by his family.  HPESC's website is educational and very informative. After many late hours of research, I decided to contact HPESC for some guidance. Every step, every contact I had with HPESC, was a caring & compassionate experience.  Each HPESC person I interacted was very sensitive to my needs. Dr. Julie was more than I could ask for - she was kind, caring & patient.  She was so helpful during such a difficult time.
The cost made me a little hesitant, but this was a small gift I was able to give my lab in return to the priceless memories he gave me & my family.
Carrie N.
Buena Park, CA
8/5/2020


Honestly hands down the most sympathetic, supportive, and loving experience... during the hardest day of my life. Yesterday I had Dr. Julie come over to assist with my Cookie passing. It was the day that I dreaded for 18 years. And to do it alone was terrifying. But the calm, loving care these doctors exude during this process is undoubtedly appreciated and I didn't feel alone. I honestly recommend this experience over stressing you kitty out and taking him to the hospital. I don't look forward to the next visit but I appreciate that your are here for me and my family. Thank you.
Barbara L.
Yorba Linda, CA
7/15/2019


Dr. Julie was so sweet and incredibly kind.  Couldn't ask for better.  Every aspect her visit showed complete love and concern for us and our poor Buddy.  She made a horribly sad time more bearable.  Highly recommend this company.  So much nicer to help your pet cross the Rainbow Bridge in the comfort of their home with all of their loved ones around them instead of on a cold metal table at the vet's office.
Victoria M.
Tustin, CA
4/18/2020


I want to thank home pet euthanasia for being open during the COVID-19 pandemic. All of us pet parents are extremely grateful. I want to thank Chelsea for answering the phone. And I want to give a special thank you to Dr. Julie for coming out to my home to help Atlas transition to heaven.
This was the hardest decision I've ever had to make. Atlas was fine one day and the next day he collapsed. Because of his devastating, severe, horrific, no cure diagnosis we decided to make that hard decision.
I could not imagine Atlas being alone in the hospital going through this by himself. Home pet euthanasia was the first place I called and Chelsea answered said she can have Dr. Julie come in the morning. Dr. Julie was very reassuring and compassionate and kind and soft-spoken. She is very professional and gave us all the time we needed with Atlas before and after. She gave atlas the love and dignity that he deserved. Our hearts are shattered over this but I am thankful that Dr Julie was there in our time of need. It takes A very special person to do the job that Dr. Julie does. God bless you Dr. Julie.
Cathy B.
San Francisco, CA
4/11/2021


Dr. Julie was so professional but very caring.  It was such a hard decision to make but she treated Angus with so much love, it was almost like he was her cat.  I would recommend this service if you want your pet to be comfortable in their own home and not be afraid of the ride to the vet.  Our Angus never did well in the car.  It was a hard but beautiful event.  I can't say enough how much I appreciated how much dignity and love Dr. Julie showed to us.  How can you put a price on that?  She really was respectful and sensitive.  That's what I needed that day.  She carried him to her car in a wicker basket and he had a beautiful blanket wrapped around him.  She gave us enough time with him before driving away.  She was so wonderful.  Thank you!!!
Julie J.
IN
12/4/2018


I emailed on Sunday to start the process of seeing my 17 year old cat off. I admit I kind of hoped they wouldn't be as responsive as they are. I set up a time on the next Sunday to take care of my Annie. But Monday night she clearly was having issues that made her unhappy, unsteady and miserable. I sent email again and was immediately assisted by Chelsea and Annie was scheduled for this afternoon.
Dr. Julie came by and was amazingly sympathetic and efficient. Annie was gone in about thirty to forty five  minutes with only a bit of discomfort. Totally my fault. I didn't have her headquarters secured.
This was such an incredible service both for me and, I hope, for my cat. Thank you so much.
Christy D.
Huntington Beach
1/2/2021


It's never easy to say, "good bye" to a family member, especially when you can't speak the same language. With our pets, we often search for understanding through their eyes. The day our family had to let go of our 11 year old Beauceron, Evette, her eyes told me it was OK. I can say that because Dr. Julie was there with us to help Evette cross over the Rainbow Bridge. Though the circumstances were stressful, upsetting and horrible, Dr. Julie made it peaceful and loving. Compassionate and calm. Merciful and really, perfect. In the comfort of our living room, surrounded by love in a space she felt most at home, Evette was relieved of the suffering she had endured from her brain tumor and Cushing's disease.
Thank you Dr. Julie for your professionalism and genuine compassion during a painful process. I was very touched by your follow-up call to check on us.
All dogs should be so lucky to pass with your help when it's their time.
Jen B.
Mission Viejo
11/18/2020


Our sweet Himalayan Persian Hurley passed on yesterday at 11 years of age. He's been dealing with kidney failure for years and he rapidly declined in the last 48 hrs. We paid a little extra to get Dr Julie after hours. She was nothing short of amazing. Her quiet, kind, compassionate demeanor was just what our family needed. She explained it all with compassion. It was peaceful and beautiful as we had worship music playing. She was so gentle with him in all stages, even putting him into his basket as we carried him out for the last time. Our kids were also present. She didn't rush us and was perfect for this process. I wish she had been our vet ongoing. You will not be disappointed with this company. They are so caring. Thank you isn't enough.
Spontaneous emails sent after the service:
"Dr. Julie was so sweet and incredibly kind. Couldn't ask for better. Every aspect her visit showed complete love and concern for us and our poor Buddy. She made a horribly sad time more bearable. Highly recommend this company. So much nicer to help your pet cross the Rainbow Bridge in the comfort of their home with all of their loved ones around them instead of on a cold metal table at the vet's office."
Barbara L, pet mom of Buddy
"At the recommendation of our vet, we contacted HPE when it came time to put our beloved 13 yr old golden retriever, Bruschi, to sleep.  Immediately I was impressed with your service and staff.  Chelsea was extremely dignified and compassionate as I explained our situation to her.  She patiently waited for me to compose myself while I told her about Bruschi.  It was such a difficult thing to talk about.  Dr. Julie was amazing.  She exuded compassion and a true sense of feeling as she described the process.  During the entire procedure her voice conveyed calm and reverence.  It was always filled with compassion.  Everything she did was slow, purposeful, and extremely respectful.  Again, it was her voice and body language. She knew, understood, and respected what we were going through.  It made such a huge difference.
Losing Bruschi has been crushing on our family.  
But he left us while at home, surrounded by love … and thanks to Dr. Julie, under the best circumstances possible."
Ken, Deb, and Hilary King
Testimonials on our website: