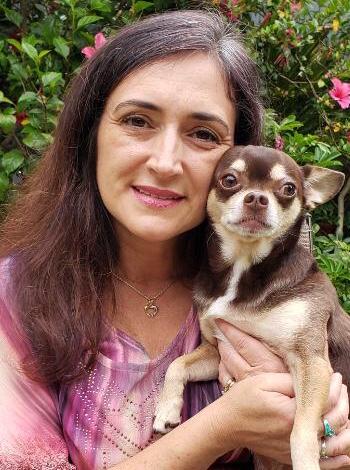 "Since I was 7 years old, with my first pet,  I wanted to become a veterinarian. When I was 10 years old,  I fixed a bird's broken wing and cared for it until I happily watched it fly away…  this re-enforced my desire to be a veterinarian.
I graduated Veterinary School in 1998 in Brazil and got my Veterinary license to practice here in the United States in 2006. I have been working in general practice in California since that time.
I have personally understood what it means to go through the loss of a friend and companion pet, since I experienced it with my first baby Champanhe, who was with me for 17 years. Still today, I enjoy God's gift of being a pet owner.  I care so much for what we do here at Home Pet Euthanasia, and I am honored to be intimately involved in helping pets and their families at this great time of need."
Dr. Lis
Professional information: 
Dr. Lisley Pilago
CA license 16889
What others say about their experience with Dr. Lis:
On YELP:
Megan K.
San Clemente, CA
6/4/2019


When it came time to say goodbye to my beloved Kasey cat after being together almost 15 years, I knew I couldn't take him to the vet to put him to sleep peacefully. He went downhill so fast in the last few days of his life, and I couldn't bear the thought of him leaving me after being scared from the car ride and scared from the vet as he always was. Kasey started to crawl away in the closet and in my bathtub to sleep, places he never went. I could tell he was uncomfortable and just wanted to go to sleep and not wake up, peacefully in a familiar place. Dr. Lis came over and very gently and sweetly helped me say goodbye to my best friend in the most peaceful way possible while he was at home and in my arms. Dr. Lis was so sweet and understanding, and her bedside manner was perfect.
I had Kasey cremated, and Home Pet Euthanasia of Southern California handled his ashes wonderfully. I received him in a beautiful box with a name tag and had his paw print made. They provided me with such beautiful keepsakes to honor him.
For those who are anticipating the loss of a pet, I can't recommend the services of home pet euthanasia of Southern California enough. If you can avoid it, do you and your friend a favor and allow the final moments of his/her life to be spent at peace in a familiar place with the help of in-home euthanasia. RIP Kasey Cat.

John W.
Los Alamitos, CA    
6/22/2019


Home Pet Euthanasia was a very great option for the passing of our dog Sunny. There were a few options to choose from, but we decided with HPE. We got the euthanasia+cremation package which was about the average price for our options. What wasn't average, however, was the care that the vet Liz provided. She was caring, gentle, and informative. She even said a prayer on our behalf when we were too teary-eyed to provide one. The experience was memorable for me and my family because of Liz's service. Thank you HPE and Liz.
Yelp Dad
Mission Viejo, CA    
6/22/2019


Care and concern from the moment we called them. A reasonable fee for an extremely respectful service. They include the personal delivery of cremated remains in a beautiful cedar box/urn a couple of weeks later.  The vet, Dr Lis, arrived on time and through her loving efforts she helped our family as we surrounded - then said goodbye - to our beloved doggie comfortable in his own bed at home. Our pup was a Goldendoodle, a 14 year old gentle giant, and the best good boy there ever was.
Testimonials on our website about Dr. Lis: