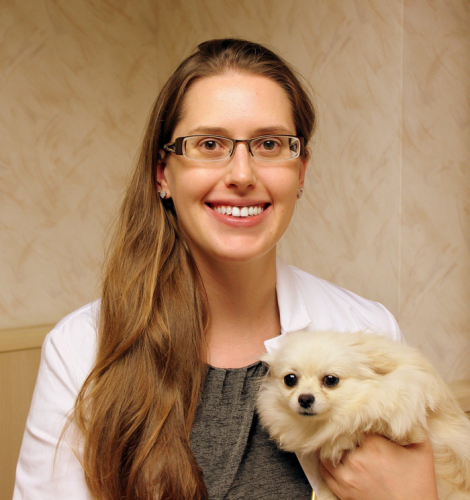 "From a young age I have always loved the company of animals. Growing up in rural Pennsylvania I had ducks, reptiles, hamsters, rabbits, and dogs, and I was never happier than when I was surrounded by animals. When I was 7 years old our family dog was diagnosed with diabetes, and ever since then I knew that I wanted to be a veterinarian.
After earning my Bachelor's degree in biology and psychology in Pennsylvania, I moved to Southern California to attend Western University's 'Doctor of Veterinary Medicine' program. Once I had graduated with honors in 2016, I decided to call California home.
For the past five years I have been working as a general practice veterinarian in Irvine. It has been my passion to provide the highest quality of care for my patients, which is made possible by the wonderful community of devoted pet owners. I have always cherished the honor of helping families say goodbye to their beloved pets, which I have also gotten to know and grown attached to over years of treating them. When it was time for me to decide on end of life care for my own pets, I chose in-home euthanasia. The calm and peaceful experience I was able to have with my pets in their last moments made it clear that I made the right choice. I am very happy to join the team at Home Pet Euthanasia where I can offer this valuable service in the comfort of the family's home.
When I am not working I enjoy relaxing at home with my husband and our two dogs Monte and Ronin who are both Yorkies. I also enjoy going out to see the latest movies and traveling internationally. I am particularly fond of tropical locations, and I plan to explore a new island every year with my family."
Professional information:
Dr. Lisa Fieg
CA License 21473
What people say about their experience with Dr. Lisa:
On YELP:
Erin M.
Anaheim
3/27/22


I'm not even sure where to start. This company took such amazing care of us and our pup. We originally called back in December of 2021 thinking we were going to have to put our 17 year old dog down then, but were unsure. They let us know that we could cancel all the way up to the point of the doctor driving to our home. Luckily we were able to cancel and got 3 more months with our pup. Unfortunately we did need their services this last weekend for her. Dr. Lisa came to our home and was an absolute miracle sent from the universe. She was so compassionate and explained everything to us, even how our other 2 dogs would react and what to look for to know that they understood our girl was gone. She gave us more than enough time to say goodbye and was so caring in how she took our little one from our home. She made this whole experience feel so loving and warm that we felt like she was a friend. I can't imagine having to do this everyday, I would be a mess. I'm so thankful for everyone here and that this company exists.
Anthony L
Westminster, CA
11/10/2021


I want to start with, if you're looking at reviews of home euthanasia services, I know it's hard and you must be hurting. Just starting the Google search broke me down and then having to call and set the appointment hurt even more with a lot of ugly crying.
While this is difficult, HPESC really was amazing in the services provided. It takes a special personality and love to show the warmth and affection every day when dealing with grieving families every single day. Kudos to this vet for being able to show sympathy/empathy. I believe her name was Dr. Lisa but hard to remember through all the crying.
The vet that came to our home Sunday afternoon was kind, understanding, patient, and respected all of our wishes. She even made suggestions that helped our pup transition to where he wasn't even aware she was there.
This is a painful time and some of their blogs are helpful but the care they provide was truly something special and I'd recommend them highly.
Our 12 year old pup who had all sorts of health issues was also highly anxious especially around strangers. We knew a vet sticking him with a needle just wouldn't work nor did we want him stressing in those final moments.
--Tips that helped us--
HPESC does not offer sedative pills, only injection (which is understandable). So we called our regular vet for some pill sedatives that would help calm our pup prior to HPESC arrival (2 hours before was a good time).
We woke up our pup and took him around all morning and early afternoon so he would take the sedatives and sleep.
We explained in paper work and to HPESC vet our pets anxiety and degenerative health issues. She made some suggestions in how she would inject her own sedative in a different location with the information we provided her and our pup didn't even feel it or twitch.
While we were lucky our pup didn't do any of the involuntary last twitches, noises, or emptying bladder/bowels when he was gone, but be prepared for that just in case.
We had a larger pup and I helped the vet carry him out in a hand held stretcher which is basically a canvas type of blanket with handles. While the vet had a sweet way of doing this, you're still carrying your now passed on pet, so just mentally prepare for these moments.
This will be an extremely difficult time for you and your family but I hope you get the same vet we had that really made one of the most difficult days a better experience for you and your family pet.
Kevin C.
Huntington Beach, CA
2/6/2022


We have had Max for almost 13 years....we adopted him and he instantly became a part of our family.   Max is an Australian Cattle Dog, and he loved chasing the frisbee and going on long walks at the Bolsa Chica wetlands in Huntington Beach.
His hips have been going out for years, but he would always rebound.  The other day, though, it became clear that Max could not get up and needed our help.  It was 7:30 pm and he had been struggling a bit during the day...but now he wasn't able to stand and he let out a cry.
I knew we needed help but the earliest vet visit I could get was for 3:30 pm the next day.   Max looked sad and confused as he repeatedly tries to get up, his back legs failing each time.
My urgency increased as I realized this could t wait until tomorrow.  What to do?  I have heard about in home vets who can humanely euthanized your pet at home....would someone come this late!?!?
I called Home Pet Euthanasia and immediately felt comforted by the voice on the other line.  She collected my information and then advised: "I think we have someone who can help you but she may not arrive until 8:30 - 9:30 pm.  Is that ok?"
I was so happy and relieved.  When she arrived, Dr. Lisa was the utmost in terms of professionalism and also in terms of her empathy at our situation.  Max greeted her with a wag of his tail and she explained to me how the process works.   She took her time, was comforting and caring..and our sweet Max was able to cross over the Rainbow Bridge with dignity and love.  I was holding him the entire time and his death was peaceful and serene.
Thank you Dr. Lisa, I would give you 10 stars if I could.   I highly recommend Home Pet Euthanasia, they are an amazing resource.
On Google:
Kathryn Bullock
From start to finish Mary, Chelsea, and Dr. Lisa answered all of my questions. This past Saturday we gathered as a family to put our sweet Tobey down. Dr. Lisa's kindness and compassion was so comforting. As a pet owner this is never an easy decision. It was peaceful and we were all surrounding our sweet boy in love at home. Thank you for making that possible and helping our family move through the process.
Spontaneous emails and letters sent after the service:
Dear Dr. Lisa,
Randy and I would like to thank you for your professionalism and kindness.  You made a very difficult situation so much easier.  We could not ask for a better way of saying goodbye to our dear Sammy.  Thank you sincerely and may God bless you greatly for your kindness.
Lauretta and Randy V
Dr. Lisa was great. She made the whole experience so comforting. I wanted to thank the entire team for their support and for being able to get Lisa out here so quickly. She was truly amazing.
Amanda K
I wanted to reach out to you to thank you from the bottom of our hearts for helping us through the dying process of my dear dog: Mimis
Mimis is my adorable dog, she passed away at 16 yrs of age. She was rescued from a shelter when she was 3 years old. She had a beautiful life. When the time came, I called Pet Euthanasia, I was crying, the person on the other side of the phone was so helpful and patient.  Dr. Lisa was send out to our house on a Sunday.  She explained the procedure to us and gave us peace of mind and showed so
Much compassion in such difficult times.   She made it easier.  Mimis went to heaven in a very peaceful way, humane way.  We were present until the end.  It was so sad but my Mimis did not suffer.  She passed away in the comfort of her favorite spot at home: sofá .    Dr. Lisa, we thank you so much fir all your help, compassion and empathy.  We picked up Mimis ashes few days later and she is finally home with us: her soul.  And fir sure playing and jumping in heaven with God :) ❤️❤️❤️
Thanks so much Pet Euthanasia, Dr. Lisa and Dr. Forslund
God bless you for helping my beautiful Mimis have a peaceful farewell:)Maria Molina
Mimis mom
Dr Lisa did an amazing job of walking them through the process and can look back on their pet's passing as a somewhat pleasant experience!
Amazing work Dr Lisa! The gift you give means a lot to these families.
James S 'Whiskey'
Thank you so much!  Dr. Lisa was so kind and caring.  Molly was able to go to Heaven at home surrounded by her family.  Dr. Lisa tucked Molly into a basket with a blanket and gave us all hugs before she left.  It was sad but beautiful. 
Lisa F, 23 March 2022
Dr. Lisa was so kind and she cares so much and it really shows.  It is a great comfort to know someone is there to help your baby.  We appreciate you all so much.  We have used your services in the past and we cannot thank you enough. 
Heidi W. and Carl B.
Dr. Lisa was very calm and reassuring with my dog.  She let me pet and soothe my dog.  He was in my arms being comforted.  It was conducted in such a sensitive and caring way that mnade the loss of my beloved pet much easier.   I loved my dog so much and he had such a gentle, loving passage.  Thanks so much for allowing both of us to say goodbye with love.
Barbara C.
Dear Dr. Annie and staff, 
Dr. Lisa euthanized my cat Bobby Shea.  Dr. Lisa was an angel.  She was comforting, knowledgeable and she gave me a hug when I said Bobby into the cutest little basket that she wrapped my little girl in when she drove away...  I will never forget that hug or Dr. Lisa.  Dr. Lisa and Danielle war excellent at what they do.
Bryan S.
Dr. Lisa was so kind, professional, patient, explained everything, very kind and gentle disposition.  So appreciated!  She was truly amazing in her care.  I would highly recommend your services. 
Lisa B. 
Testimonials on our website about Dr. Lisa